We have a furniture waste crisis
Furniturecycle embarks
Hello, hello!
It's been a month since my webinar, which is how most of you found your way here, and I am so grateful you did.
On May 21st I had the pleasure of presenting Circularity in Furnishings at the Sustainable Furnishings Council. I shared how my passion project, Loved Furniture Lasts, had documented over 50,000 pounds of discarded furniture within two miles of my home in just 15 months. And that 89% of it was reusable. During my project, I fell in love with the promises embedded in discarded furniture. I found the lack of conversation about and understanding of this widespread phenomenon very frustrating. Needless to say, I was compelled to act. So I declared a furniture waste crisis and created Furniturecycle. 
Over the last year, I spent a lot of time on Instagram—where I shared discarded furniture photos and short vignettes— asking questions, such as who is being included and who is being left behind, who is in the news, and who isn't. To be honest, I started Furniturecycle to hold myself accountable for tracking down some answers, instigating conversations, and continuing to explore the many intersections that make discarded furniture so interesting and promising.
To date, our society tends to view furniture in two states--it's either new, as shiny marketing fodder, or it's "garbage" and often depicted as urban blight. Without digging into this false dichotomy further, we'll never reveal the systems behind the symptoms. (Hat tip to The Oaklandside, my awesome new local paper, whose mission is rooted in these ethos). 
Before I wrap up, I must acknowledge that a conversation about waste, climate, labor, local economies—the very topics that brought you here today, can all be traced back to power and privilege, of which race is inherently intertwined. The civil rights movement that's fighting against entrenched and systemic racism towards Black people demands our attention, solidarity, and action. As such, Furniturecycle commits to carrying an intersectional lens into all of our work, continuing to learn and absorb and always seeking to be better.
Welcome to my humble container, I am so glad you're along for the journey. I can't wait to dig in.
---
In other news
I am very honored to be a panelist at the ReUSE Minnesota's 2020 virtual conference, Vision for a Circular Future, coming up in July. Catch my panel July 14, at 10am CST.
Furniture news worth a read
Silly Billy: What the Ikea bookcase tells us about the true cost of fast furniture. A Billy is made every three seconds. But the cheap-furniture boom has an ecological price
– Irish Times
My favorite street find in June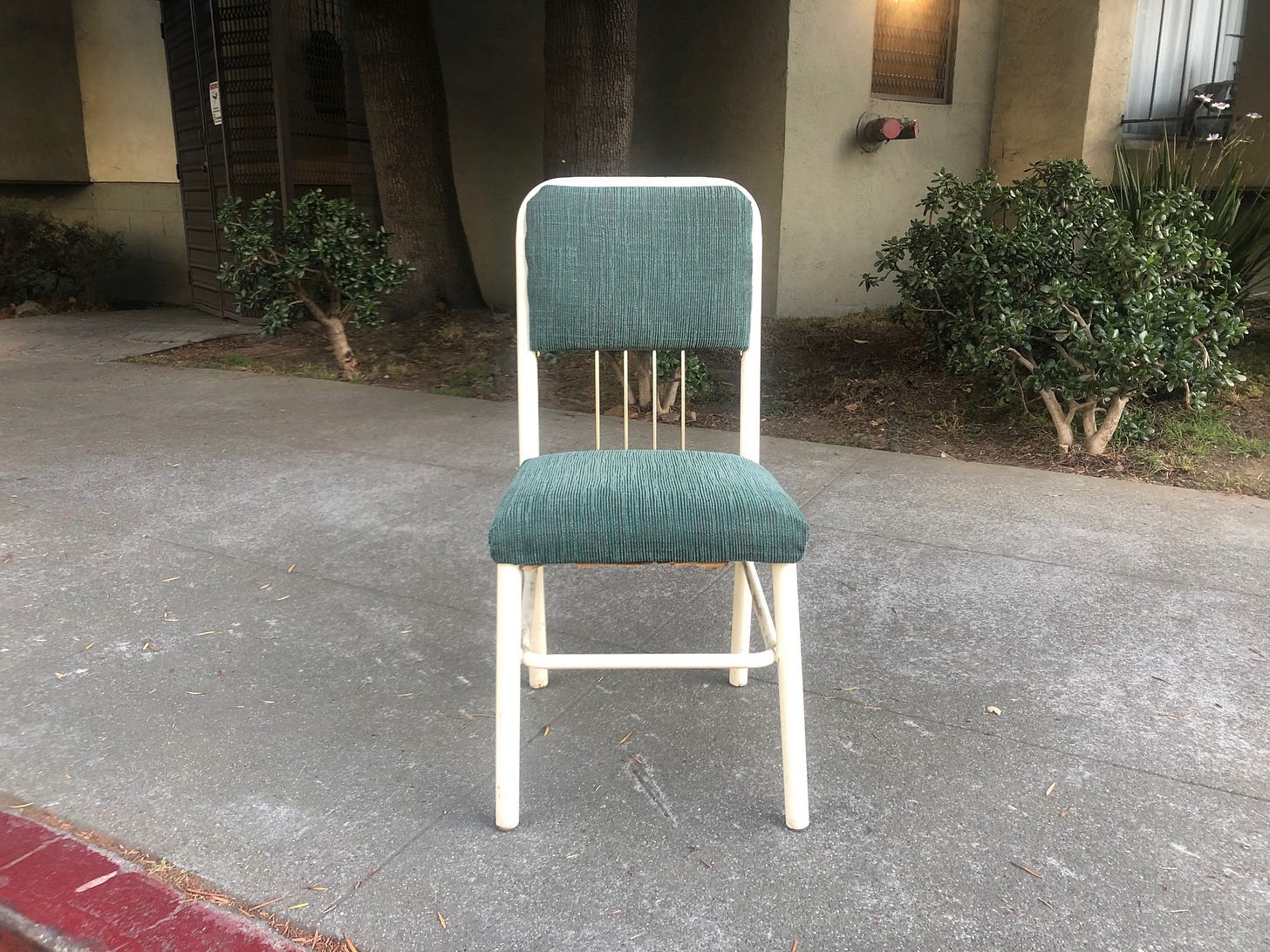 Other furniture finds 
Did you pass any street furniture lately? I would love to see it. Next time you see something, snap a picture and send it to me (thefurniturecycle@gmail.com). If you remember, please include your city and state. Together we can build the coolest collage ever. It's so easy. And super fun, I promise. Let's see what furniture waste looks like across the miles. I will share submitted photos in upcoming newsletters.
Finally
Have any pressing furniture waste topics you want to understand better? Send your questions and ideas to thefurniturecycle@gmail.com.
---
[W]hen we design a chair, we make a society and a city in miniature.

-Peter Smithson